Crowborough Accident Repair Services Ltd
Unit 10, Browning Road,
Station Road Industrial Estate,
Heathfield, East Sussex, TN21 8DB
01435 860649
info@crowboroughaccident.co.uk
OPEN MON to FRI 08.00 – 17.30

Contact
You can contact us on:
Tel: 01435 860649
Fax: 01435 864368
Email: info@crowboroughaccident.co.uk
Crowborough Accident Repair Services Ltd,
Unit 10, Browning Road,
Station Road Industrial Estate,
Heathfield,  East Sussex, TN21 8DB
POT HOLES!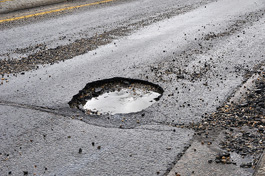 We find ourselves driving on roads full of pot-holes and uneven services. This has a detri-mental affect on your vehicle's suspension and steering. In worse cases it could even affect your vehicle's braking system. Why not let us carry out a four wheel geometry check, using our state of the art equipment?